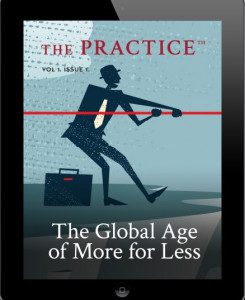 In 2015, I helped the Center on the Legal Profession at Harvard Law School conceive, develop, and launch The Practice, a digital magazine for the legal profession. Now published every two months, the magazine uses the center's study of the sociology and praxis of the law to help legal practitioners around the world adapt to a changing legal landscape, which is in the throes of change perhaps as dramatic as those that have occurred in publishing in the wake of technology over the past two decades.
Over more than a year, I wrote and edited the inaugural and subsequent three issues of the magazine before moving from Boston to Brooklyn in late 2015. They covered a survey of disruptive innovation in the legal industry; an ethical examination of practice as a legal professional; and an analysis of women in the legal profession, with extensive interviews and detailed data from eminent practitioners both domestically and worldwide.
The first issue, The Global Age of More for Less, is available online (simply sign up with an email). Additional writing samples available upon request.